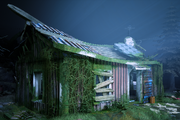 Hammon's Cabin is a location in Mutant Year Zero: Road to Eden. It is the location for the mission Investigate Hammon's Cabin and is located north of Ark Outskirts. Also accessible from this area is the The High Road. The Far-Looker Artifact can be found here.
Description
[
]
Just north of the Ark on a steep cliff lies the outpost of Hammon the stalker. It is a simple wooden cabin that does not offer the occasional visitor much. This is where Hammon spends much of his time, always on the lookout for the unexpected?
Enemies
[
]
In the forest to the west are two level 5

Zone Dogs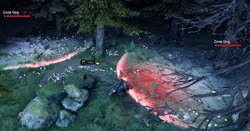 Just outside the cabin, a level 5

Shaman

(drops Medkit) stands guard. Inside is a level 5

Hunter

(drops Noatun - EMP 30) and behind there is a patrolling level 5

Marauder

(drops Scrap x2).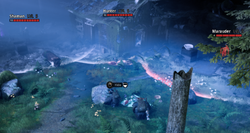 Points of Interest
[
]
Hammon's Cabin, the namesake of the area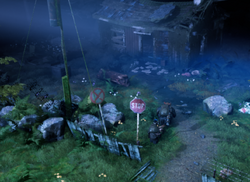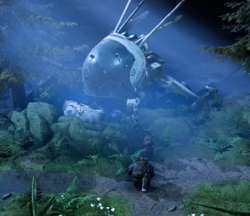 Items
[
]
Gallery
[
]